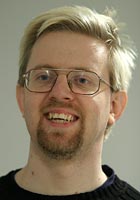 Welcome. You've now reached the home page of an IC design specialist and science fiction fan.
Our baby boy Ville (web page in Finnish) was born on October 1, 2004, and our daughter Venla (also in Finnish) on January 7, 2010.
Other websites you can find me on
Social networking
Programming
Photography
Science fiction and fantasy
Others
You may find either me or someone else with the same name on some other sites too, but the ones above are the ones I (at least semi-)actively frequent.
Contact information:
My email address is visible at the bottom of this page. Dropping the "+web" part helps in getting me to read your mail in a timely manner — email to the exact address at the footer will go into a low-priority folder.
Download my GPG public key (fingerprint C4D2 7885 44FE 4741 C0FF 6038 8344 D314 0D47 2EEB). The key can also be received from subkeys.pgp.net using key id 0D472EEB.
Snail mail:
Almanpolku 2
21500 PIIKKIÖ
Finland